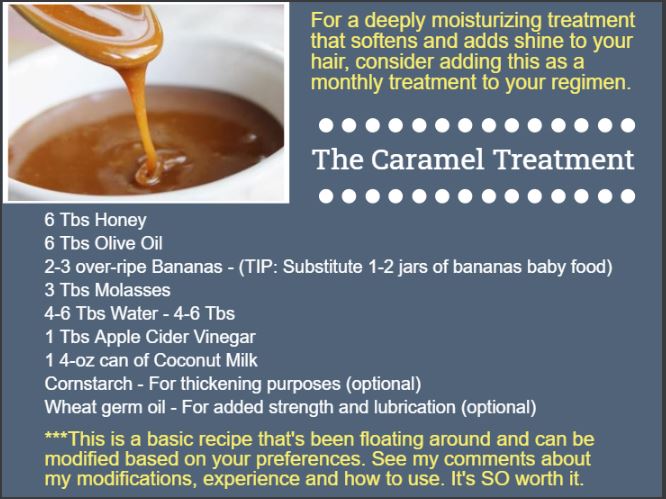 There are a few recipes floating around the internet for the Caramel Treatment. They're basically the same. I've been using this treatment off and on for years and love it. This treatment leaves the hair soft, strengthened, well-moisturized and shiny. This treatment works well on natural, transitioning and relaxed hair.
Directions:
1. Puree the over-ripe bananas WELL. You can add a little water to help to get a very creamy texture.
2. Add all the other ingredients, except the water, and blend thoroughly.
3. Start adding water as needed to help with blending.
4. Pour the mixture into a saucepan and put it on a medium heat while stirring constantly. You don't want to 'cook' the mixture but you want the cornstarch to cause it to thicken and this will take just moments. You may need to add more water to thin it down if it gets too thick or add a bit more cornstarch if it is still too runny. You want to end up with a caramel colored mixture that is the consistency of a thick batter. If the mixture is too thin it will start dripping from your hair as soon as you apply it.
5. Pour mixture into a bowl and allow to cool. You can also place it into an appliator bottle for ease of dispensing, making sure the opening is large enough to dispense the mixture.
6. Apply to the hair in sections, making sure to fully coat hair from root to tip. You don't want any of your hair to miss that yummy moisture.
7. Once applied, cover with a plastic cap and allow to remain for 1-2 hours (over overnight, if the hair for really dry hair or a serious moisturizing treatment).
8. Rinse thoroughly and wash out with a sulfate-free shampoo and continue with your normal wash routine.
Note: You can freeze any unused treatment for later use.
Now for my comments on my experiences. That ripe banana thing did NOT work out for me at all. I went extra over ripe and pureed the bananas before adding to my mixture. I had banana pieces in my hair for at least an entire week! But, I've since been using a jar of baby food bananas instead and it works great!

I also add extra virgin coconut oil (just because I like to add it to all my DC's. And I've never tried adding cornstarch but, I guess I really should. The messy part of the treatment is that it drips like crazy. And, since you have honey and molasses in it, the drips are sticky. But it's WELL worth it. Oh, and the mix says wheatgerm oil is optional but, I always add wheatgerm oil to all my DC treatments for the ceramides.
I also add Jamaican black castor oil, mainly because it's thick and I thought that would thicken the mix instead of using cornstarch. (I've just been resisting the whole cornstarch idea because I haven't seen it in any of the other Carmel Treatment recipes but, maybe I will try it. JBCO does thicken it but, it still drips. But again, it is WELL worth the efforts. Hopping in the shower afterwards makes it all good. And I use half coconut milk and half coconut cream. The cream is thicker.

Apply it like a normal DC treatment. I use it with my steamer a lot but, as you can imagine, the drips. You'll need a towel around your neck for sure. But, the honey and molasses are humectants and grabs the moisture from the steam. Or, wrap your hair in plastic or use a plastic cap (well, two) and sit under heat or just keep it on for awhile and use your own body's heat. Either way, the moisture starts to accumulate in the cap and may spill over so, a towel is still needed around your neck.

It's called the Caramel Treatment because when it's all mixed, it looks like caramel. It's messy and sticky but OH so worth it! Oh, and to temporarily loosen the curl in my ng while stretching between relaxers (when I was relaxed), I added plain yogurt to the mix.
Again, this recipe can be modified to fit your hair's preferences or what you may already have available. If you give it a try, let us know how you like it and whether you made any modifications. Share your feedback in our facebook group or email me details of your experience to share.
I appreciate you! Happy Hair Growing!